Welcome friends!
We hail from the Emerald Isle and we bring you own brand of thrashy-power metal. With our politically charged lyrics, thundering double kick drums and relentless energy, we aim to spread our message of positivity, peace and respect for our all living things. So grab a beer and celebrate the glory of heavy metal with us!
Bakken quickly amassed a loyal following thanks to the positive press attention gained worldwide from the debut album Death of a Hero.
The band's live performances got them established on the local circuit ultimately headlining their own shows and supporting bands such as Hell, Doug Aldrich and Tim "Ripper" Owens. Bakken are back with a vengence in 2020 with their epic new full length album This Means War.
Bakken are: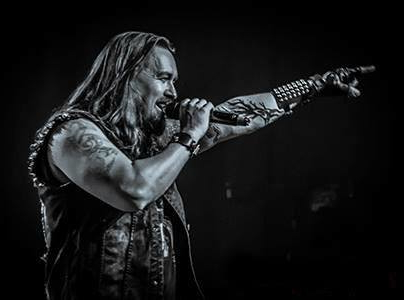 As a former vocalist in Iron Maiden tribute bands, Frank's powerful and high range vocal along with his song writing has added new energy and dynamic to the band's sound.
As a founder member and main songwriter, Simon's thrash style vocal and riffs are at the core of Bakken's sound.
Simon's main influences come from power metal (e.g. Gamma Ray), classic thrash (e.g. Metallica) and melodic death metal (In Flames and Children Of Bodom).
Glaswegian Shaun brings a wealth of writing/production experience to the band along with his breath-taking solos. Previous bands include Attica Rage and Iron Heart.
Thomas is a true virtuoso on mulitple instruments and performs in orchestras. He has toured with Tim Ripper Owens (formerly Judas Priest).
Founder member Niall's high octane double-kick drumming fills the stage with excitement, the audience with awe and our enemies with fear!
Niall's favourite bands are Slayer, Dimmu Borgir and Amon Amarth.